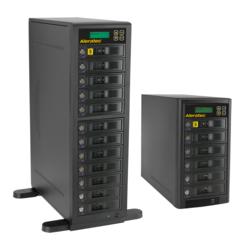 Can't have just one hard drive? Want to be able to produce more? Then Aleratec has the best product for you! HDD Copy cruiser is for those who are looking to duplicate hard disk drives and sanitizer, it has a copy rate of 120 MB per second and a third-party certified 7 pass sanitization function. This all impressive product is brought to you by the one and only, Aleratec.
Aleratec is a leading manufacturer and developer of duplicator of hard disk drives, optical disks and USB flash drives. It prides itself with their products that produces great results. Even famous celebrities like music producer and song writer Matthew Ferraro has talked about how he uses Aleratec to create his music.
The HDD Copy Cruiser can perform duplication of up to 5 hard drives all at the same time and sanitizes up to 6 hard drives simultaneously. It has gained good reviews in the market and is available for only $599. For more information regarding the product, please visit their website.